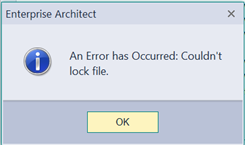 After the install of the Zachman Framework MDG Add-in for Sparx Enterprise Architect, there is an issue when we want to open the provided sample, ZF Example.
EA complains that it "couldn't lock file".
One way to successfully open this file is to run EA as an administrator, but, it is not the most convenient way. It is better to open windows explorer, select the "Program Files (x86)\Sparx Systems\MDG Technology\Zachman" folder, and change the permissions on it. Give "Full Control" to all the users, and it will enable the opening of the example.